Compared to the diving board, the swimming pool slide gives the thrills of sliding from the top level down to the cool waters. Children and adults can glide down the swimming pool slides as many times as they want  and enjoy the moment together.
Swimming pool slides are commonly installed on inground pools but with above ground decking systems, they can also be now installed on above ground swimming pools.
Knowing the components of your pool slide enables you to monitor and ensure that they are in good condition and can be replaced if necessary.
Slide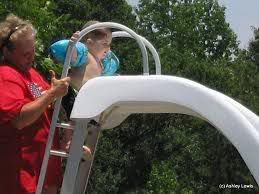 The main component of the pool slide.
Commonly made from fiberglass; other slides can be made from polyethylene and acrylic.
Can be straight, right or left curve, and whirl-shaped such as vortex.
 Ladder
Provides access the slide.
Can be made of durable plastic, stainless steel or aluminum.
Some ladders have handrails for  added safety.
Anchors
Secures the stability of the swimming pool slide.
Made from either aluminum or plastic.
Swimming pool slide can be anchored by either drilling holes into the pool deck then set the pool slide legs and ladder into the concrete or by sinking the anchors with the slide legs  and ladder attached to them into the concrete that surrounds the swimming pool.
Flume
Connected to a water source that provides water flowing on the pool slide.
An outdoor water faucet or hose can be used to connect to the water source.
Plumbing assembly is required.